The number one Sunday Times bestseller, the book all parents are talking about: 'I will read parenting self-help books, including...French Children Don't Throw Food, in order to be better at looking after the children than Chloe' - Bridget Jones - Mad About the Boy
The book everyone is talking about: how the French manage to raise well-behaved children, and have a life!
Who hasn't noticed how well-behaved French children are, compared to our own?
*How come French babies sleep through the night?
*Why do French children happily eat what is put in front of them?
*How can French mothers chat to their friends while their children play quietly?
*Why are French mothers more likely to be seen in skinny jeans than tracksuit bottoms?
'Fascintating...gripping...extremely funny...I loved it. It made me want to move to Paris' - India Knight, Sunday Times
'Her book should be dispensed on prescription' -Spectator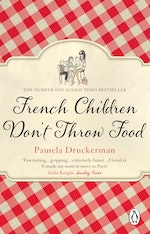 Paperback
9780552779173
January 18, 2013
Black Swan
Hardback
9780385617611
January 20, 2012
Doubleday
Also by Pamela Druckerman