We've all come up with our own stories to the mysterious illustrations of Harris Burdick, but now some of the world's greatest storytellers have had a go!
This inspired collection of short stories is based on the original illustrations of Chris Van Allsburg in his esteemed and mysterious The Mysteries of Harris Burdick, and features many remarkable, best-selling authors in the worlds of both adult and children's literature: Sherman Alexie, M.T. Anderson, Kate DiCamillo, Cory Doctorow, Jules Feiffer, Stephen King, Tabitha King, Lois Lowry, Gregory Maguire, Walter Dean Myers, Linda Sue Park, Louis Sachar, Jon Scieszka, Lemony Snicket, and Chris Van Allsburg himself.
Van Allsburg's Harris Burdick illustrations have evoked such wonderment and imagination since Harris Burdick's original publication in 1984; many have speculated or have woven their own stories to go with his images. More than ever, the illustrations send off their eerie call for text and continue to compel and pick at the reader's brain for a backstory - a threaded tale behind the image. In this book, we've collected some of the best storytellers to spin them.
Paperback
9781849394598
January 2, 2014
Andersen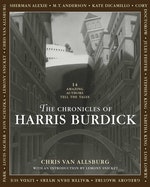 Hardback
9781849394086
June 1, 2012
Andersen
Also by Chris Van Allsburg